Don's Bike Center
201 SW G St. Grants Pass, OR 97526 ♦ (541) 471-3494
donsbikecenter@gmail.com ♦ M-F: 9:30-5:30 Sat: 10-4 Sun: closed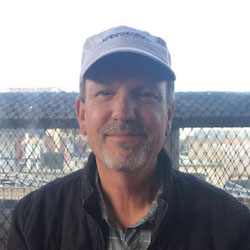 Don Hendricks
Don started Don's Bike Center in the Spring of 1996 with his wife and partner Julia. Don's passion for all things bikes started at a much earlier age, somewhere around the age of 13 during the great era of the 10-speed bicycle. It was the late sixties; ten speed racing bikes from Europe hit the states and began the great American bike boon of the early seventies. Don jumped on board with his first new bike, a Campi equipped Gitane Tour de France. Before long he was regularly climbing highway 9 out of Las Gatos, CA. Don became fascinated with long joy rides and weeklong tours during his High School Years. Motorcycles took over during his early career as a machinist but bicycles reappeared during his days as an Engineering Student. By the mid Eighties, mountain bikes began to make a real presence. Don saw them as a perfect re-entry to fuel his passion for bikes. His first quality mountain bike was 1986 Panasonic 6500 Mountain Cat, hard tail with rigid fork! Mountain biking soon became his go to activity and remains so to this day along with frequent road rides. After a successful 13 year career as Bio-Engineer and Engineering Manager it was time for a lifestyle change. He and his wife and three kid's relocated to Grants Pass, OR and started Don's Bike Center in 1996. His passion for all thing bikes exploded immediately. He soon learned the ropes of bicycle mechanics, sales, service, and the all important skill of customer service! Twenty years later, Don and Julia still own and run Don's Bike Center and their son works along side Don, a second generation Don's! Don takes great joy in leading bike rides with his friends and customers. He still loves both Mountain Biking, and Road Riding. He tries to ride two to three times a week year round. He has even been known to hit the snowy trails in the winter, although you won't find him out much on rainy days, he kind of melts! Look for him on the trails riding the latest Specialized Epic full suspension dream machine, or on the road on his high zoot Specialized Roubaix.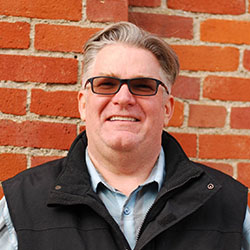 Eric Dickerson
Eric is our main mechanic, and he's been with us since the beginning. Eric has actually been working in bike shops since he was just 14 years old. The first job he ever had was working at a bike shop in exchange for a new bicycle. When you bring in a bike for service and repairs it is likely that Eric will be the one getting your bike "race ready."
Ted Hendricks
Ted is Don and Julia's son, and is the newest member of the DBC crew. He began working for DBC in the spring of 2013, and is our main computer and inventory guy. Ted is also responsible for assembling most of our beautiful bicycles and designed and hosted this website as part of a school project. He has since finished his degree in web development at RCC. Outside of work Ted enjoys sports, music, and painting. He currently rides a Specialized Camber 29 and a Specialized Allez.
Victor Chaymouni
Victor has been working as a mechanic for DBC since 2009, shortly after he moved here from Huntington Beach, CA. Outside of the bike shop Victor also works on drums. He builds new drums as well as repairing old ones, which coincidentally is quite similar to what he does at DBC.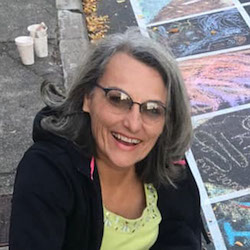 Julie Hendricks
I'm the girl (lady) behind the scenes. I love riding bikes! I love riding with other ladies and encouraging women into cycling. But to be honest I'm usually the token female on our Tuesday night rides and that's ok with me because the guys are always very friendly toward me. There's lots of friendly conversation before we head out on a ride. My favorite part part of the bike business is when I'm in the shop seeing someone getting a new bike, there is usually an excitement about them. Then I watch Don or Eric shake their hand and thank them for the business. For me that's the best part because in many cases that's the beginning of the relationship with our customers. It's even better when they begin to come out on rides and become part of our cycling family.